Undergraduate Programs
The Department of Biology offers three undergraduate programs: BS in Biology, BA in Biology and BS in Biochemistry.
Our goals are to: prepare you with the knowledge and confidence to apply the scientific method in biochemical and biological research; train you to communicate scientific discoveries in standard scientific formats; educate you so you are able to apply, foundational biochemical and biological concepts necessary for graduate education, professional schools or a career in the biochemical and biological sciences.
Our department has approximately:
1400 total Biology students
150 total Biochemistry students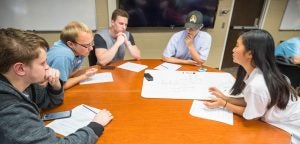 Problem Based Learning (PBL) Classroom
As an intended biology or biochemistry major, you will have the opportunity to take your first biology class in an innovative problem-based learning (PBL) setting.  This class is taught in a fifty-six-seat classroom (seven round tables of eight students).  You and your peers will work in groups to actively achieve the class learning objectives.  In this active learning setting you will gain good study habits that you will be able to apply throughout your education.
This classroom is also used for upper biology courses that also utilize problem-based learning format.

Apply now to explore the world of biological sciences.