Core Imaging Major Support Equipment
Major support equipment and Imaging software are listed below under four categories.
---
SEM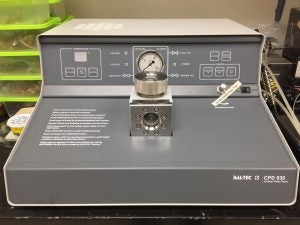 Baltec CPD 030 Critical Point Dryer
In conventional SEM (CSEM) it is essential to dry specimens with methods that minimize distortion due to shrinkage. Critical Point drying (CPD), freeze drying and chemical drying (e.g. with hexamethyldisilizane) all attempt to do this. A CPD replaces ethanol in an ethanol dehydrated specimen with liquid carbon dioxide. Then the liquid carbon dioxide is heated so that at a certain temperature and sample chamber pressure (the critical point) the carbon dioxide passes from the liquid state to the dry gaseous state with little or no damaging surface tension.
---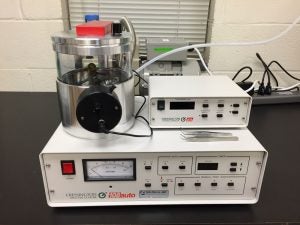 Cressington 108 Auto/SE Sputter Coater with Cressington Thickness Controller MTM 20
In conventional SEM (CSEM) biological specimens need to be made conductive to attract the electron beam. Our sputter coater does this by depositing a very thin uniform layer of gold on the specimen.  Coating is automatic and desired coating thickness can be entered into the Thickness Controller, MTM 20.
---
Paraffin Thick Sectioning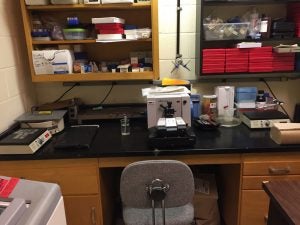 Reichert-Jung Model 2030 Biocut Paraffin Sectioning Microtome
A section of the microscopy facility is devoted to conventional paraffin thick sectioning (5-15 μm thick sections). Microtomes, ovens and other necessary equipment are in place.
---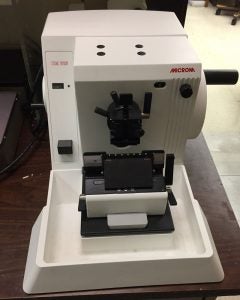 Microm HM 325 Paraffin Sectioning Microtome
---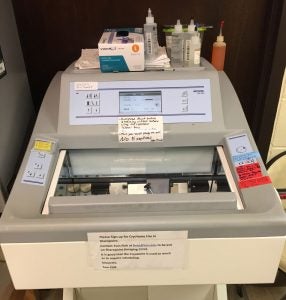 Microm Cryostat Microtome HM 550
This cryostat microtome allows for instant freezing of biological tissue at -20 degrees Centigrade followed by quick sectioning.
---
General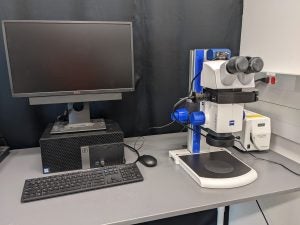 Carl Zeiss SteREO Discovery.V8 Stereo microscope
Stereo microscope equipped with epifluorescence (eGFP, RFP, YFP) for general screening of specimens. The scope is equipped with a Axio camera for data acquisition and a computer.